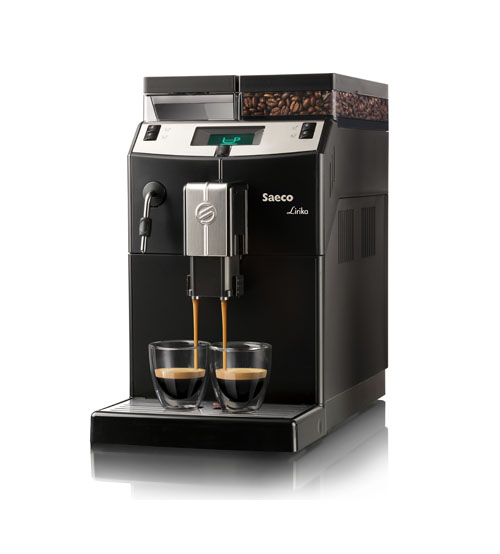 Saeco Lirika
Dimensions (w x h x d) 215 x 381 x 430 mm 215 x 381 x 430 mm,
Weight 7 Kg.
Chassis black ABS with metal grid silver painted ABS with metal grid
Water tank removable removable
Electrical specifications
Power supply 230 V/50 Hz 230 V/50 Hz
Absorbed power 1850 W 1850 W
Water specifications
Boiler material stainless steel stainless steel
Articulated hot water/steam wand yes with pannarello
Pump pressure 15 bar 15 bar
Water connections
Water supply autonomous water tank autonomous water tank
Other specifications
3 colours graphic display yes yes
Programmation menu yes access by dedicated button
Coffee beans container capacity 500 gr 500 gr
Water container capacity 2.5 l 2.5 l
Coffee grounds container capacity 15
Removable drip tray yes yes
Coffee grinder ceramic blades ceramic blades
Removable brewing group yes
Electronic pre-infusion yes
Adjustable grinding degree yes
Adjustable coffee strength no (8 gr) yes
(light 6.5, medium 8, strong 10)
Height-adjustable coffee dispenser 105-145 mm 105-145 mm
Descaling manual
Cappuccinatore (milk frother) Yes
Simultaneous dispensing of 2 coffee cups yes
Number of selections 4
Write a review
Note:

HTML is not translated!

Sapiente rerum magni voluptates accusantium sequi molestias deleniti aliquid facilis commodi aut. Ea ab facere voluptatem cum beatae vero dolorem doloribus itaque culpa. Molestiae, optio, libero inventore ducimus natus incidunt qui dolor adipisci tempore tempora quo minima distinctio eligendi laborum ex quaerat eos! Unde suscipit porro est amet quis nostrum enim. Asperiores, ad, hic, culpa, rerum delectus similique minus facilis reprehenderit quisquam debitis dolores suscipit!
Qui laboriosam maiores ad. Enim, autem, beatae, sapiente minima non atque maiores maxime natus corporis possimus reprehenderit id blanditiis sequi repudiandae saepe reiciendis consequatur mollitia aspernatur cum!