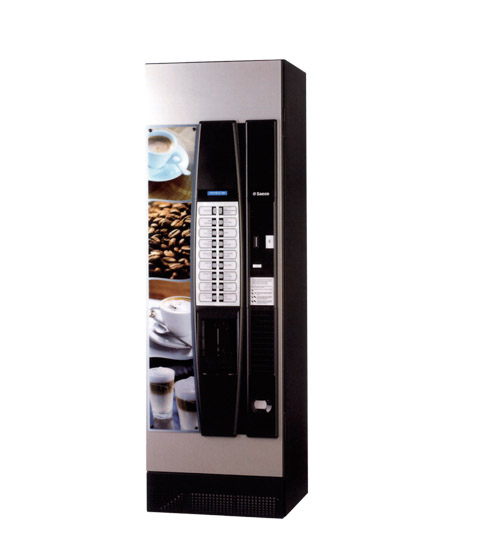 The Saeco Cristallo 400 is a completely automatic vending machine designed and developed to reduce maintenance and service.
Technologically advanced and extremely user-friendly, it offers up to 12 different beverages.

Main features
. Automatically dispenses cups (up to 400), sugar and stirrers

. Saeco Brewing Unit: top quality of espresso, easy cleaning and maintenance

. Accepts the most commonly used parallel and serial MDB (possible Master and Slave configurations), BDV Executive payment systems

. Standard CPU for the whole range

. Customizable settings

. High safety for customer and operator
Technical Data
. Cups (h 70 mm) 400.

. Stirrers 400.

. Number of selections 12.

. Number of preselections 4.

. Coffee bean container 1.

. Instant product container 4.

. Sugar container 1.

. Number of Grinders 1.

. Disc mixer 3.

. Water supply standard: water supply optional: independent water tank kit.

. Power supply 230 V/50 HZ 120 V/60 HZ.

. Power consumption 1250 W.

. Dimensions (w x h x d) 577 x 1600 x 577 mm.

. Weight 97 kg.

. Boiler Brass.

. Independent water tank 1 o 2 - 15 l.

. Brewing unit 7 / 9gr.
Write a review
Note:

HTML is not translated!

Sapiente rerum magni voluptates accusantium sequi molestias deleniti aliquid facilis commodi aut. Ea ab facere voluptatem cum beatae vero dolorem doloribus itaque culpa. Molestiae, optio, libero inventore ducimus natus incidunt qui dolor adipisci tempore tempora quo minima distinctio eligendi laborum ex quaerat eos! Unde suscipit porro est amet quis nostrum enim. Asperiores, ad, hic, culpa, rerum delectus similique minus facilis reprehenderit quisquam debitis dolores suscipit!
Qui laboriosam maiores ad. Enim, autem, beatae, sapiente minima non atque maiores maxime natus corporis possimus reprehenderit id blanditiis sequi repudiandae saepe reiciendis consequatur mollitia aspernatur cum!