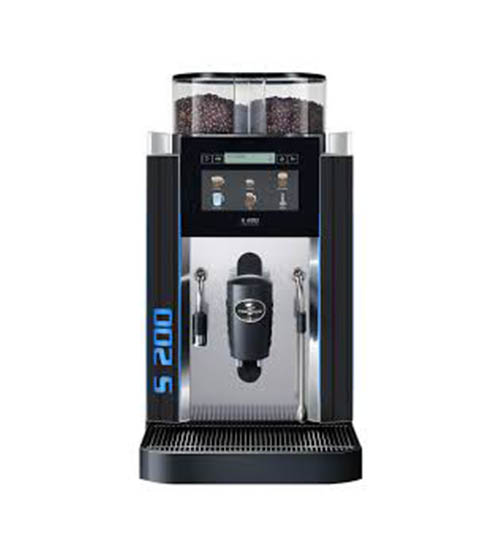 The Rex Royal S200 is the baby brother of the S300. It incorporates all the features of the S300 and packages them up in a smaller machine. With a patented metal brewing group and twin stainless steel boilers, it produces a terrific extraction and steamed milk. Although compact, the machine still has a rotary pump and Ditting grinder and two canisters for instant drinks. The S200 draws 10 amps so there is no need for additional power and can be plumbed or run off an internal water tank. Despite its diminutive footprint, the S200 is a true super automatic offering great flexibility and performance.
Patented Metal Brewing Group
Twin stainless steel boilers
Twin instant drink canisters – hot chocolate , chai and other instant drinks
Compact footprint 352mm (w) x 600mm (d) x 670mm (h)
Plumbed or 3.6L tank option available
Energy efficient – runs off 10 amps
Touch screen with up to 24 product selections
Simple automated cleaning function
Write a review
Note:

HTML is not translated!

Sapiente rerum magni voluptates accusantium sequi molestias deleniti aliquid facilis commodi aut. Ea ab facere voluptatem cum beatae vero dolorem doloribus itaque culpa. Molestiae, optio, libero inventore ducimus natus incidunt qui dolor adipisci tempore tempora quo minima distinctio eligendi laborum ex quaerat eos! Unde suscipit porro est amet quis nostrum enim. Asperiores, ad, hic, culpa, rerum delectus similique minus facilis reprehenderit quisquam debitis dolores suscipit!
Qui laboriosam maiores ad. Enim, autem, beatae, sapiente minima non atque maiores maxime natus corporis possimus reprehenderit id blanditiis sequi repudiandae saepe reiciendis consequatur mollitia aspernatur cum!