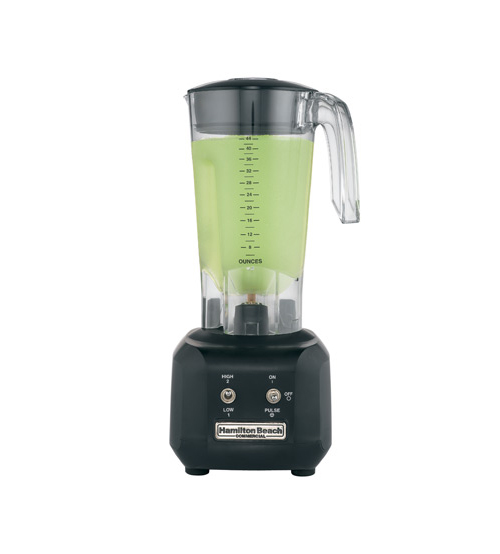 3 Reasons to Buy!
Performance
Blends a 16 oz. daiquiri in just 25 seconds
Durability
Powerful 3/8 Hp motor
Rubber clutch is built to last
Ease of Use
High/low/off toggle switch is easy to reach and control
Large 44 oz. polycarbonate container with filler-cap and measurement marks for easy filling
25 Second Daiquiri - When thirsty customers are waiting, you can blend 16 oz. drinks in 25 seconds flat.
Two Speeds - Offers versatility and precision blending for a wide variety of food and drink mixtures.
Durable Stainless Steel Blades - Four stainless steel blades are made to last and get the job done fast.
Large 44 oz. Container - Break-resistant polycarbonate container with filler-cap and easy-to-read measurement marks makes filling and pouring easy.
Specifications:
Standard: Unit comes with base, 44 oz. polycarbonate container, Sure Grip™ feet, and blade assembly unit
Controls: High/low
Motor: 3/8 Hp
Electrical: 230 V, 50 Hz
Weight: 7.25 lbs / 3.29 kg (shipping)
Warranty: 1 year.
Machine dimension (mm) : 165 x 203 x 390
Write a review
Note:

HTML is not translated!

Sapiente rerum magni voluptates accusantium sequi molestias deleniti aliquid facilis commodi aut. Ea ab facere voluptatem cum beatae vero dolorem doloribus itaque culpa. Molestiae, optio, libero inventore ducimus natus incidunt qui dolor adipisci tempore tempora quo minima distinctio eligendi laborum ex quaerat eos! Unde suscipit porro est amet quis nostrum enim. Asperiores, ad, hic, culpa, rerum delectus similique minus facilis reprehenderit quisquam debitis dolores suscipit!
Qui laboriosam maiores ad. Enim, autem, beatae, sapiente minima non atque maiores maxime natus corporis possimus reprehenderit id blanditiis sequi repudiandae saepe reiciendis consequatur mollitia aspernatur cum!