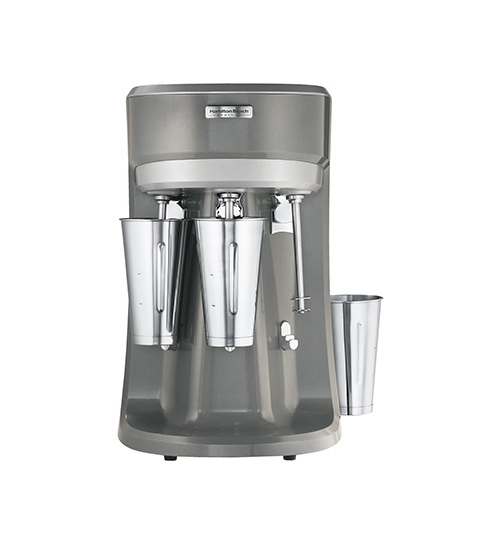 3 Reasons to Buy!
Performance
Mixes up to twice as fast with more powerful one-third Hp motors
Minimized motor vibration - each motor is individually balanced
3 speeds plus unique pulse switch for maximum mixing control
Durability
Heavy-duty, die cast construction
Motors are built to last with sealed, permanently lubricated ball bearings
Ease of Use
2 ways to start & stop mixing action: with pulse switch or cup guide
Removable cup guides clean up quickly in the dishwasher
Optimum Output - The ideal choice for high-volume milkshake prep.
Performance - 1/3 Hp motor mix up to twice as fast, so you can maximize service and minimize the wait.
3 Separate Motors - Each motor works independently and has its own power switch, so you can use two while cleaning the third.
Precision Motors - Each motor is individually balanced to minimize vibration. All three motors are built to last with sealed, permanently lubricated ball bearings.
Two-Way Motor Activation - Operators can start and stop mixing action by inserting the cup into the cup guide, or by using the pulse switch on top of the mixer.
All-Metal, Heavy-Duty Construction - This classic design offers die cast durability in a smooth rounded shape that's easy to clean.
Specifications
Standard: Unit comes with base, three motors, three spindles, three solid agitators, and three stainless steel cups
Controls: 3 speed rocker switches and three unique pulse switches (one for each spindle)
Motor: 1/3 Hp on each motor
Electrical: 230 V, 50 Hz, 900 Watts
Weight: 37.30 lbs / 16.92 kg
Warranty: 1 year .
Write a review
Note:

HTML is not translated!

Sapiente rerum magni voluptates accusantium sequi molestias deleniti aliquid facilis commodi aut. Ea ab facere voluptatem cum beatae vero dolorem doloribus itaque culpa. Molestiae, optio, libero inventore ducimus natus incidunt qui dolor adipisci tempore tempora quo minima distinctio eligendi laborum ex quaerat eos! Unde suscipit porro est amet quis nostrum enim. Asperiores, ad, hic, culpa, rerum delectus similique minus facilis reprehenderit quisquam debitis dolores suscipit!
Qui laboriosam maiores ad. Enim, autem, beatae, sapiente minima non atque maiores maxime natus corporis possimus reprehenderit id blanditiis sequi repudiandae saepe reiciendis consequatur mollitia aspernatur cum!