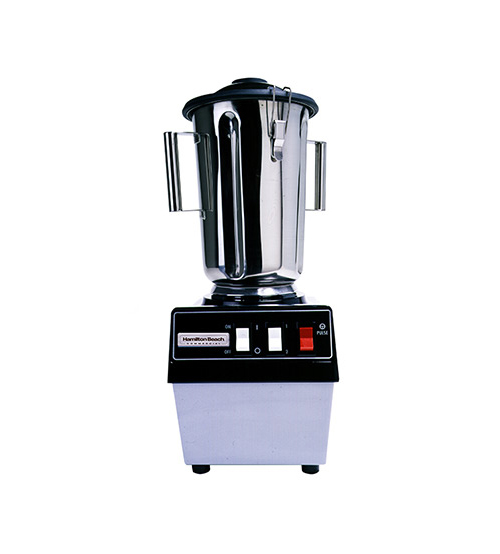 Dependability: Provides enough power and durability to handle the professional demands of hotels, bars, restaurants, hospitals, and nursing homes.
Two Speed Power: Two speed versatility with pulse option provides precision blending, mixing, chopping -- even pureeing of hot and cold items.
Durable Stainless Steel Blades: Four stainless steel cutting and mixing blades ensure quick, thorough blending. Special accessory is included for easy blade unit removal.
4 L Stainless Steel Container: Durable stainless steel container features dual metal clamps and handles for extra security during and after blending -- clamps hold lid tightly shut; two handles make container easier to grasp and remove from base. A heavy-duty rubber gasket around the lid prevents leakage during usage.
Easy to Service: Parts and accessories, like our flexible, easy-to-change neoprene clutch assembly, are available for your convenience–a service designed to increase motor life.
Unique Features:
3-Wire Grounded Plug: Designed with safety in mind.
Sure Grip Feet: Prevents skidding—won't mar countertops.
Self-Aligning Collar: Container easily fits into place.
Specifications:
Warranty: Two year parts and labor.
Standard: Unit comes with base, one stainless steel container, Sure Grip™ feet, blade assembly unit, and blade removal accessory.
Controls: High/Low with Pulse Option
Container: 4 L Stainless Steel Container
Motor: 3/4 Hp.
Electrical: 230 Volts, 50 Hz., 675W
Weight: 23 lbs./10.4 kg.
Dimensions:
Container Height: 12.5" / 31.75 cm
Base Height: 9.5" / 24.13 cm
Base Width : 9" / 22.86 cm
Base Depth : 10" / 22.86cm
Machine dimension (mm) : 228 x 254 x 366
Write a review
Note:

HTML is not translated!

Sapiente rerum magni voluptates accusantium sequi molestias deleniti aliquid facilis commodi aut. Ea ab facere voluptatem cum beatae vero dolorem doloribus itaque culpa. Molestiae, optio, libero inventore ducimus natus incidunt qui dolor adipisci tempore tempora quo minima distinctio eligendi laborum ex quaerat eos! Unde suscipit porro est amet quis nostrum enim. Asperiores, ad, hic, culpa, rerum delectus similique minus facilis reprehenderit quisquam debitis dolores suscipit!
Qui laboriosam maiores ad. Enim, autem, beatae, sapiente minima non atque maiores maxime natus corporis possimus reprehenderit id blanditiis sequi repudiandae saepe reiciendis consequatur mollitia aspernatur cum!