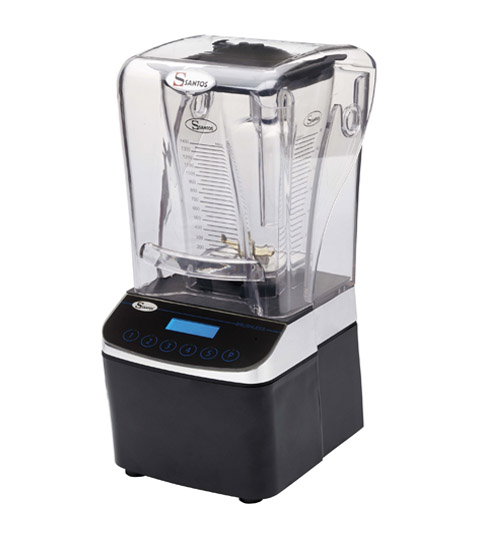 Blender for smoothies and iced drinks
You can make any kind of cocktails, smoothies, fruit juices, milkshakes, granitas, iced coffee frappe with the blender #62, thanks to its 30 pre-programmed recipes.
Ideal appliance for juice bars, fast food, hotels....
The brushless Blender fits everywhere thanks to its sober design and its low overall dimensions.
It can be used equally in its standard version or in-counter version to save space.
Its sound enclosure reduce the noise levels....
Unlike universal motors, brushless motor has no brushes (permanent magnet rotor) which gives it a long lifetime (no wear parts), an excellent energy efficiency and a low noise level.
Light years ahead in terms of sustainable development.
Key features:
Ergonomic

sensitive Glass control panel

Motor

Brushless technology


220-240 V - 50/60 Hz - 3000 W max
100-120 V - 50/60 Hz - 3000 W max
Aluminum casting construction

Weight


- Net weight 9 Kg (20 lbs)
- Shipping weight 10,5 Kg ( lbs)

Dimensions


- Height: 440 mm
- Width: 200 mm
- Depth: 247 mm

For Ice cubes, fruits, with or without liquid.

High quality materials, all parts in contact with food are stainless steel

or NSF plastic listed.

Easy to clean

Safety
- motor stops when the sound enclosure is opened
Hygiene:
- All removable parts can be put in a dishwasher or easily cleaned with hot soapy water.
- removable blade with a common tool
- Food zone is totally "bis-phenol free" as required in many countries. BPA-free Jar.

Standards

:
-

Versions 62 (

220-240V - 50/60Hz

)

Machine dimension(mm) : 200 x 247 x 440
Write a review
Note:

HTML is not translated!

Sapiente rerum magni voluptates accusantium sequi molestias deleniti aliquid facilis commodi aut. Ea ab facere voluptatem cum beatae vero dolorem doloribus itaque culpa. Molestiae, optio, libero inventore ducimus natus incidunt qui dolor adipisci tempore tempora quo minima distinctio eligendi laborum ex quaerat eos! Unde suscipit porro est amet quis nostrum enim. Asperiores, ad, hic, culpa, rerum delectus similique minus facilis reprehenderit quisquam debitis dolores suscipit!
Qui laboriosam maiores ad. Enim, autem, beatae, sapiente minima non atque maiores maxime natus corporis possimus reprehenderit id blanditiis sequi repudiandae saepe reiciendis consequatur mollitia aspernatur cum!