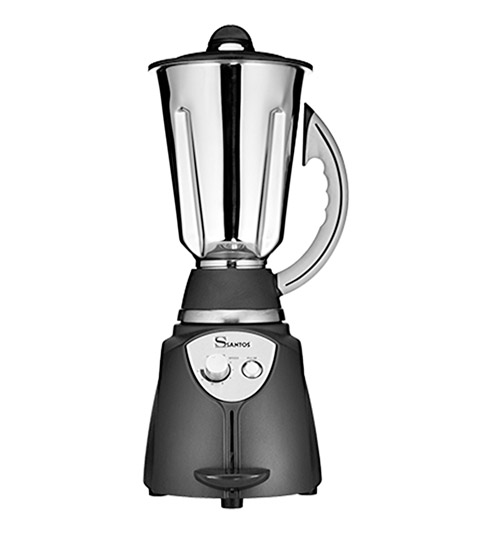 The kitchen blender # 37 is the ideal appliance for mixing, liquefying, grinding, crushing… all kinds of hot and cold preparations: gaspachos, soups, purées, creams...
It quickly crushes hard ingredients (ice cubes, lobster carcass…).
Ideal for restaurants, institutions, hospitals, child care centers, hotels and ice-cream shops.
Key features:
Universal Motor, - New - extremely silent
220-240 V - 50/60 Hz
100-120 V - 50/60 Hz
- Max input power: 1550 W
- Max output power: 1200 W
Variable speed 500 to 15000 rpm
Pulse up to 18000 rpm - New -
Speed is controlled by an electronic processor. This module also prevents overheating or blocking of the axle.
Completely safe: Exclusive patent: Santosafe® locking system for bowl and lid

. Hands free use. The motor stops when opening the locking system.

High resist coupling system, very silent. The container can be placed in any position.
New blades: High duty tempered stainless steel blades and drive shaft parts, easy to dismount without tool.

Weight:
Net weight : 11 Kg (24 lbs),
Shipping weight : 13 Kg (28.5 lbs)
Dimensions of the motor/ packed (box):
- Height : 566 mm (22") / 650 mm (25.6")
- Width : 220 mm (8.6") / 280 mm (11")
- Depth : 303 mm (12") / 400 mm (15.8")

Dimensions of the packed bowls:
- Height : 220 mm (8.6")
- Width : 360 mm (14.2")
- Depth : 240 mm (9.4")
Easy to use, easy to clean.
- Handle to open and close Santosafe® locking system.
Hygiene :
- All removable parts can be put in a dishwasher or easily cleaned with hot soapy water.
- removable blade with a common tool
- Food zone is totally "bis-phenol free" as required in many countries. BPA-freeJar.
Warranty :
- Product: 1-year warranty

Standards

:
-

Versions 37 (

220-240V - 50/60Hz

)

Machine dimension(mm) : 220 x 303 x 566
Write a review
Note:

HTML is not translated!

Sapiente rerum magni voluptates accusantium sequi molestias deleniti aliquid facilis commodi aut. Ea ab facere voluptatem cum beatae vero dolorem doloribus itaque culpa. Molestiae, optio, libero inventore ducimus natus incidunt qui dolor adipisci tempore tempora quo minima distinctio eligendi laborum ex quaerat eos! Unde suscipit porro est amet quis nostrum enim. Asperiores, ad, hic, culpa, rerum delectus similique minus facilis reprehenderit quisquam debitis dolores suscipit!
Qui laboriosam maiores ad. Enim, autem, beatae, sapiente minima non atque maiores maxime natus corporis possimus reprehenderit id blanditiis sequi repudiandae saepe reiciendis consequatur mollitia aspernatur cum!