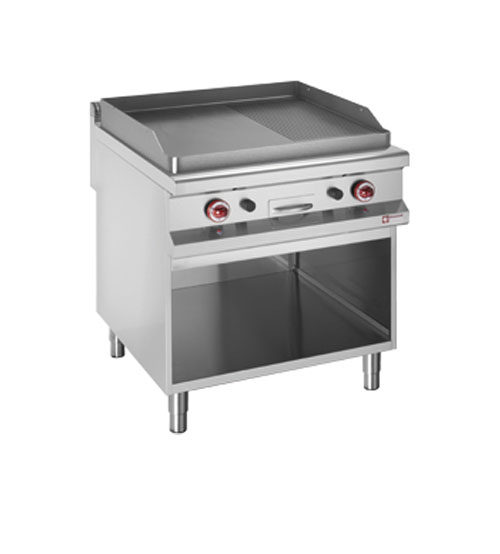 Gas fry top 2/3 smooth & 1/3 grooved
- Top 2/3 smooth & 1/3 grooved 825x670 mm, surface 55.27 dm2.
- Open base GN 2/1(760x740xh360 mm).
- Manufactured in stainless steel AISI 304, adjustable feet in stainless steel.
- Stainless steel Fry top, high heat conductivity, with a peripheral welded edge to prevent leaks. Drip tray for cooking juices put on the front of the machine.
- Gas heating, with stainless steel burners with horizontal flame. Control of the burners flame with a gas valve (chrome version, gas thermostatic valve).
PLUS:
Made to last, unfailing perfomances and reliability.
A complete range of products to meet the needs of every professional. New modularity 800 mm which makes all replacements in kitchens easy!
mm (BxDxH) : 800x900xh850/920
kcal/h : 13760
kg : 145
M³ : 0,95
Write a review
Note:

HTML is not translated!

Sapiente rerum magni voluptates accusantium sequi molestias deleniti aliquid facilis commodi aut. Ea ab facere voluptatem cum beatae vero dolorem doloribus itaque culpa. Molestiae, optio, libero inventore ducimus natus incidunt qui dolor adipisci tempore tempora quo minima distinctio eligendi laborum ex quaerat eos! Unde suscipit porro est amet quis nostrum enim. Asperiores, ad, hic, culpa, rerum delectus similique minus facilis reprehenderit quisquam debitis dolores suscipit!
Qui laboriosam maiores ad. Enim, autem, beatae, sapiente minima non atque maiores maxime natus corporis possimus reprehenderit id blanditiis sequi repudiandae saepe reiciendis consequatur mollitia aspernatur cum!